A hydrafacial is one of the most powerful, non-invasive skin resurfacing treatments available today. It combines cleansing, exfoliation, extraction, hydration and antioxidant protection that removes dead skin cells and impurities, while simultaneously delivering moisturizing serums into the skin.
Microdermabrasion treatments use a minimally abrasive instrument to gently sand your skin, removing the thicker, uneven outer layer, and has many benefits. This type of skin rejuvenation is used to treat light scarring, discoloration, sun damage and stretch marks.
Optional: Microderm & Facial
Diamond tip or crystal options; see microderm description. Extractions with steam, mask and massage also included, followed by moisturizer and SpF.
A method of exfoliation that consists of using a 10 gauge scalpel to gently scrape off the top layer of dulling dead skin cells in order to reveal a smoother, brighter complexion. It removes all the dead skin cells and also the facial hair, leaving the surface very smooth.
Optional: Dermaplane & Microderm Combo
Combining the benefits of your choice of a diamond tip or crystal microderm with the added Oxy-System, you can now refine, rejuvenate and enhance your skin. Immediately following with an Oxygen infusion treatment will give you a younger, healthier and more youthful looking appearance.
Optional: Clear FX Micro & Oxygen w/ Facial
When in doubt, customize. Every product used will be tailored to your specific needs and goals. Start with a double cleanse, followed by a honey almond scrub, perfect for all skin types and oil free. While steam softens the skin, extractions will be performed if needed, followed by a high frequency treatment to help sanitize the skin and minimize redness and blemishes. A mask will then be applied based on your skin type. An upper arm, chest, and shoulder massage will be performed while the mask sets. To end, the skin will be perfected with eye cream, serum, moisturizer and a physical sunscreen with a light facial massage.
This facial is ideal for those will dull; ruddy, or sun-damaged skin looking for a brightening feel-good treatment. Treatment begins with a double cleanse and follows the same order and protocol as the custom facial. Products used will be from HydroPeptide with a vitamin C scrub, with a light (non-irritating) peel activator on top. The mask most commonly used with this facial is the Purifying Mask, but the Brightening Soufflé Mask is also an option that varies with each client.
All products used are specifically for acne or acne prone/oily skin types. Same protocol as the custom facial, with blue LED light therapy for 30 minutes included after extractions to reduce and minimize acne blemishes, equalize oil production and prevent swelling, irritation and future breakouts
Don't neglect your back, they need love and attention too! Just like a facial, but for the back instead. Double cleanse to ensure skin is clean, deep scrub, extractions if needed, and mask with occlusion, hand/or scalp massage and moisturizer.
The transformation peel utilizes a high concentration of multiple acids to lift the appearance of pigment and aggressively surface the skin. The Transform peel is safe for all skin types like normal, acne prone, dry, sensitive, and oily. This peel is a mixture of retinol, peptides, and antioxidants to get your skin glowing. Great for melasma!
What are the key ingredients in the Transform Peel?
Lactic acid – This is the most popular AHA's (alpha hydroxy acid) in skin care today. It helps reduce acne breakouts and the appearance of fine lines and wrinkles.
Salicylic acid – This is a peeling agent that causes shedding of the outer layer of skin. This is also a good treatment for acne.
Resorcinol – This is a peeling agent and also helps with fine lines and wrinkles and brightening the skin.
We offer a variety of different chemical peel add-ons. Lactic, Glycolic, Salicylic, along with other more specialized peels
Celluma LED Light Therapy
Cleared by the FDA for pain management and skin care, Celluma uses light energy to improve cellular health by accelerating the repair and replenishment of compromised tissue.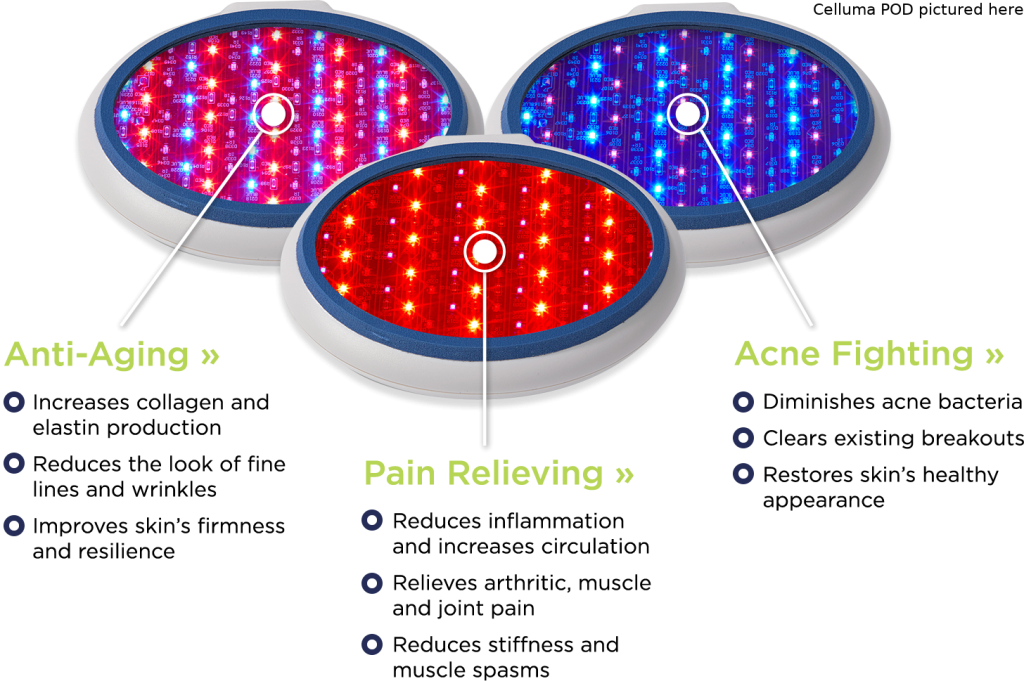 Rejuvapen (Microneedling)
Rejuvapen is an advanced skin micro-needling system. The electronically powered multiple needles easily penetrate the skin or scar tissue to enhance and stimulate rejuvenation of the skin, while maintaining epidermal integrity and reducing downtime for the patient. It significantly improve the appearance of large pores, fine lines and is an effective acne scar treatment. It can also be an excellent tool to tighten loose skin after weight loss.